Mergers: Earlier this year Deloitte acquired Monitor. Now PWC is picking up Booz&Co for what some believe will be 1x sales at approximately $1 billion. PWC got PRTM 2 years ago. Towers Perrin & Watson Wyatt merged in 2009. Six reasons this trend will continue:
Growth: The consulting model is built on growth.  Everything from promotions to pensions is built on the premise that the pyramid of consultants grows over time
Big 4: The Economist called the Big 4 firms "shape shifters" because they are so focused on consulting, and positioned to do more consulting than audit by 2017
Red Ocean: While Blue Ocean Strategy talks about creating a new market for your services and "making your competition irrelevant", unsurprisingly, some market share changes hands by straight M&A (red ocean).
Economies of Scale: Clearly some of the methodologies, data analytic platforms, reservoir of benchmarking data and transferable across clients
Disruption: Lots of potential disruption in the consulting market from non-traditional competitors. As Clayton Christensen says, client want "less for less".
Oligopoly: As the Rule of Three argues, all industries and segments trend toward oligopoly.  The only successful firms are either large and broad (e.g., Deloitte, PWC) or niche (e.g., see the list of some small firms that Deloitte recently acquired below)
Deloitte has acquired 15+ companies over the last few years. Look at the diversity. Who would think that Deloitte would by a digital social media and eDiscovery firm?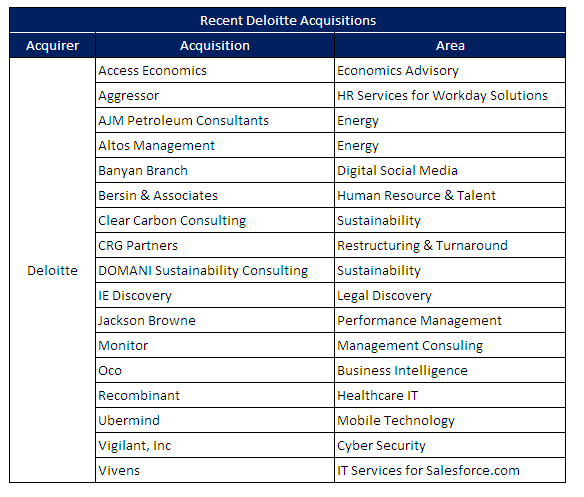 Sadly, most mergers fail.  It's fairly common knowledge in business circles that more than half of mergers fail and do not add shareholder value; that is to say that 1+1 is less than 2.  Will PWC and Booz&Co work out?  The real question is how many of the Booz&Co partners will stay at PWC and buy-into the vision and strategy.
Trust me, this will continue. Look at this screen shot from the Financial Times below. PWC was looking at another strategy firm – Roland Berger – just six months earlier.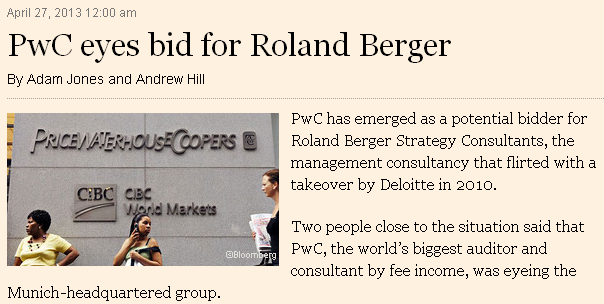 Related: Strategic Moves: Big consulting and accounting firms are making a risky move into strategy work, The Economist, 11/9/2013
Related Posts: