Sometimes the consultants are the bad guys: People hire consultants for many reasons, one of which, is to be the bad guys. Look at this article about how Deloitte is helping some of Iowa's public universities cut costs here.
Consultants usually stay behind the scenes. This is surprising in the sense that consulting firms like to stay in the background and let their clients take the spotlight, for good and bad. Ideally, the client is making all the presentations internally and externally.  Not in this particular case:
Representatives for Deloitte Consulting presented various scenarios for Iowa's three public universities to the state Board of Regents on Thursday, including the restructuring of human resources and technology services by eliminating jobs in an effort to save tens of millions in annual operating costs.
Earning money the hard way. These consultants are really earning their fees, right? Damn. That is definitely not staying in the shadows. When you are holding public town halls to talk about cost reduction, you are truly being hired to be the bad guy. 
Be careful. Judging from this article, it looks like there was a mini-uproar because Deloitte was not providing enough detail on their expenses here. This is a slippery slope because, honestly, consultants do spend money when travelling. They work hard (yes, I am in the lobby working on powerpoints right now), but they also eat well and stay in hotels with 20-30% tax.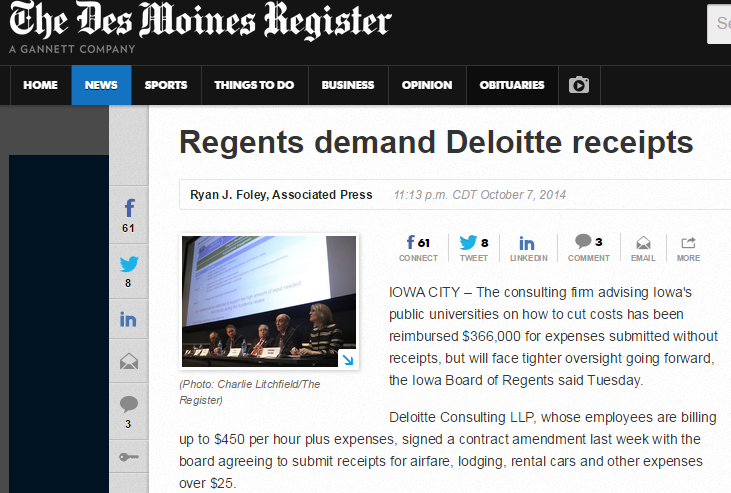 A few tips, when on a "bad guy" project:
Follow the process. Restructuring, organization design, and cost reduction projects have always existed, and they will in the future too
Document everything. When companies hire you to fix things, a lot of things can change – including the client-side sponsors, executives, and project leads
Use benchmarks to create anonymity; compare them to other standards
Work in teams; go to interviews together; present results together
Be upstanding; don't give them any dirt to work with; stay out of the limelight
Do the work, and forget about it; be at peace because these are changes that must be made in order for the organization to be successful
Don't drink too much
Related Posts: