Management consulting uses an apprenticeship model where the master coaches the apprentice on the skills and methods of the craft.  Same is true in law, accounting, other professional services.  Yes, I am sure that many consulting skills can be taught in books, through courses, or perhaps through trial-and-error.  I would argue that the real learning happens in-person, on the job site, interact with your team and with the client.   Overall, online training is pretty crappy.
There is a lot to teach.  Strategy.  People.  Process. Technology.  Some of it you can learn in books and listening. Yes, consulting firms have training programs but those are only good for the 2-3 hours you are physically sitting in the chair listening.  Once you sit up, you forget.   Most of it you need to learn on-the-job in a specific client context.
Education is what remains after one has forgotten everything he learned in school   – Albert Einstein
Doctors are the best mentors / apprentices.  One of the most rigorous and romantic examples of this apprenticeship model is medical school.  Medical students and residents learn by doing – rotations in different clinical areas, rounding on patients, grand rounds, and morbidity and mortality conferences. They learn from each other, reinforce the bonds, set professional expectations, and engage intellectually.
Learning from many.  Consulting is ultimately about being a thoughtful and fast learner. With so much to learn, and a humble curious attitude.  Why not learn?
Unlike the old days when you could only learn from the master craftsman because knowledge was experiential, now you learn from everyone.  You learn from those more senior and more junior. You learn from your peers and your clients.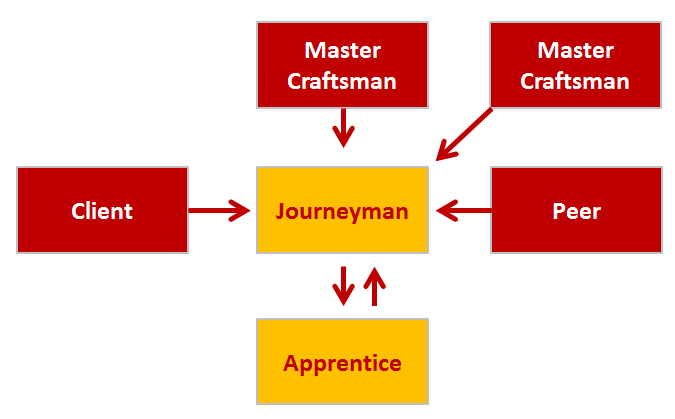 What did you learn this week?  We often ask kids what they learned at school.  The same applies to adults like us, what did you learn this week in client service?
Maybe you did not learn much this. . that is possible, but then. . . What did you teach?
Related posts: