McKinsey & Company is a premiere management consulting firm with a long legacy of influential alumni, thought-provoking research, top-shelf billing rates, and legions of ivy-league smarties.They get called in to solve difficult problems – everything from corporate mergers to changing the organizational design at the CIA here. So, it is only with a bit of humor and amusement that I read this headline here:
Consultant Gets $7 Million More to Plan Reform at Rikers Jails
Apparently, McKinsey was hired in 2014 to put together a roadmap to help reform the NY prison system for $1.74M.  Apparently, they did a good enough job to win a phase 2 of work worth $7M. The goals of the project will be to:
Focus on measures to reduce violence
Follow up from the phase 1 interview of 9,000 uniformed correctional officers
Reduce the use of solitary confinement, and replace with an alternate method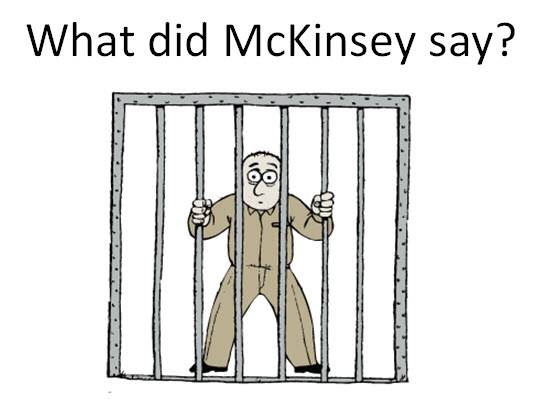 Although the executive sponsor (Mayor Bill di Blasio) liked the McKinsey work, one of the main stakeholders (Norman Seabrook, president of the correctional officers union) has been much more skeptical, almost antagonistic.  All big talk.
"I do not think McKinsey has done anything impressive enough to justify giving them another contract worth millions of taxpayer dollars. . .There has never been a dialogue between the union and McKinsey that resulted in better services being provided"   – Seabrook
Consultants solve problems. We work across industries and melt down the relevant data so that executives have options to choose from.  As Seth Godin often talks about – the simple problems have already been solved. The problems left are the perfect problems – the ones where the core assumptions and constraints need to be re-examined. Maybe solitary confinement is not the best way to punish trouble-makers and keep the other inmates safe.  Maybe the correction officer's satisfaction and inmate satisfaction are positively correlated.  Maybe there is a win-win.
Don't judge the situation or industry. Remember, difficult and good business problems come in all shapes and sizes. The head of McKinsey's first project was counting pieces of chicken for KFC's chicken nugget box after all.  Do great work and create great stories to share with the next generation of consultants.
Related posts