PWC released their 4th report on top 100 global software leaders here.  Of course you will see the major bulge-bracket software companies (Microsoft, Oracle, SAP, EMC etc), but you will also see a lot of names that you may interact only tangentially.  For example, companies like Kronos (timekeeping), Workday (HR software as a service), Concur (expense and travel), Qlik (visualization), Blackboard (education) are all software I have used before. Would never have thought  they were top 100.
Disruption. It's a great time to be a software start-up. It's not like the 1990s where you had to build a server farm and invent everything from scratch. So many of the tools and platforms exist, that the time-to-market-acceptance is shorter than ever. Also, with the cloud-based environment, switching costs will be less. After all, don't like Quicken – use Quickbooks.  Don't like Tableau – use Qlik. The same benefit of fast adoption is also the double-edge sword of faster customer churn. In the end, customers win.
Larger grow more slowly. Not a surprise the Microsoft, SAP, and IBMs of the world are growing more slowly than smaller start-ups. Obvious.  That said, this does imply that investors are likely more willing to back historically riskier (read: smaller) companies who have the chance to truly scale up and disrupt the market.  Looking at the chart below, would you rather invest companies growing at 6% or 16%?  Obvious.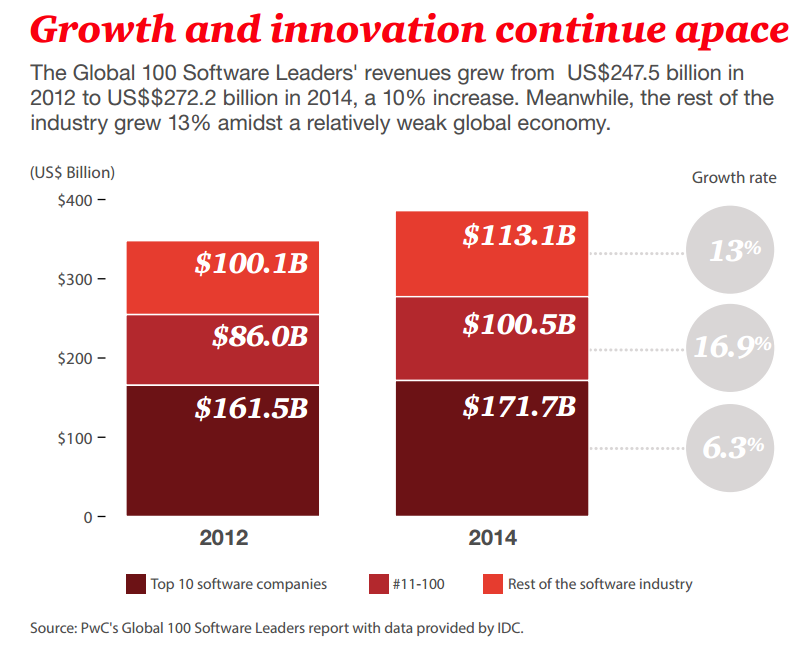 Software is not the same thing as Saas of Paas. So much talk about the "cloud" that some might mistakenly think that all software was sold as "Software as a Service (SaaS) and Platform as a Service (PaaS).  Not true. In this report you will see that #1, #2, #3 companies only have 4% of their revenue coming from cloud services.  Yep, the majority of companies sell products/solutions not "pay as you go" services. This is a graph that PWC should have made, ranking of the top 50 software companies and what % of their sales are (SaaS and PaaS).  Salesforce, Google, ADP are the big ones. Everyone else, small.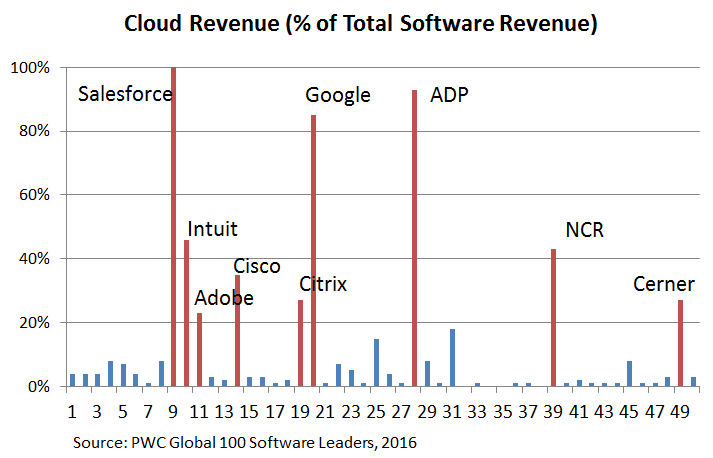 All companies are becoming software companies.  On the list you will see a large number of industrial companies such as Fujistsu, GE, Siemens, Pitney Bowes etc. They are stretching to provide more value to their customers through advanced analytics, predictive maintenance, and all the other bells and whistles to make their products more valuable.
So what? Even if you are not an IT consultant, or working in the technology space – you should probably know what all these companies do and what parts of the industry they are competing in. Long-gone are the days where you could say, "oh, I am not a technology consultant". All companies are technology companies, and ergo, you better know your software business.  Some of the new ones I discovered (gotta take your own advice):
Dassault Systèmes – French company, #15 on the list, $2.3B in revenues, makes 3D CAD systems, and product lifecycle management software (PLM); on a M&A spree. . . bougt 15 companies in the last 5 years.  Watch out for the French.
Synopsys – Dude. Even after reading the wikipedia entry, still don't understand what they do. Sorry
Open text – Canadian company focused on managing unstructured data
 Nice Systems – Israeli companies focused on telephone voice recording and surveillance systems
Find the full list of companies here.
Related posts: