Great presentation. It's always good to look at consulting decks to see how they put together data in a coherent way to tell a story. It is a craft and an art form. Was reading through reddit, and they mentioned this odd presentation from 2016. BCG was giving the City of Dallas advice on how to reduce their stray dog problem here (11Mb, 406pg). Yes, the topic is a bit odd, I agree. BCG dogs.
BCG dogs? When I think of BCG and "dogs" I usually think of the growth share matrix which Bruce Henderson pioneered in the 1970s and stole market share away from McKinsey. (stars, cash cow, dogs, question marks). Recently, discovered this document where BCG made recommendations to the City of Dallas on their "loose dog" problem. I imagine it was pro-bono work, but let's pause and reflect on it. Boston Consulting Group (think: $300-500 per hour) consultants working to alleviate a stray dog problem. Sheesh.
The slides look great. Irrespective of the topic, look at these slides. Very nice, even if the content is canine. As I tell students, consultants collect PowerPoint presentations – and there are some good tricks and tips here too. Try to look past the odd content – you'll see the slides formatting is actually better than the 30 McKinsey ones I posted last time (those were for conferences, not for clients like this one is).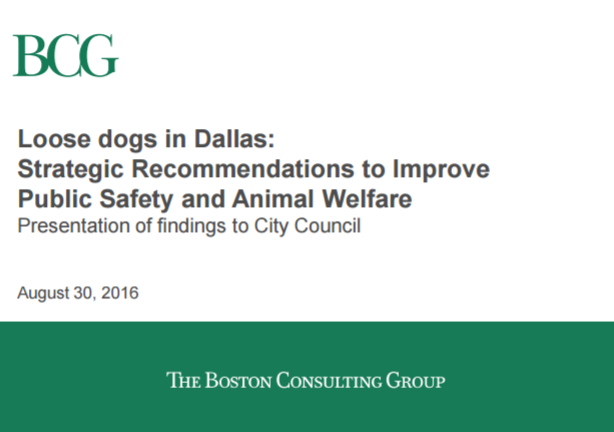 Clear approach. For consultants, it's always important to level-set with the client and let them know what you are / are not going to do on the project. For extended stakeholders (read: those who you didn't work with closely, but are in the final report out), it's good to show them that you were rigorous with your data collection and analysis. Basically, we DID the work.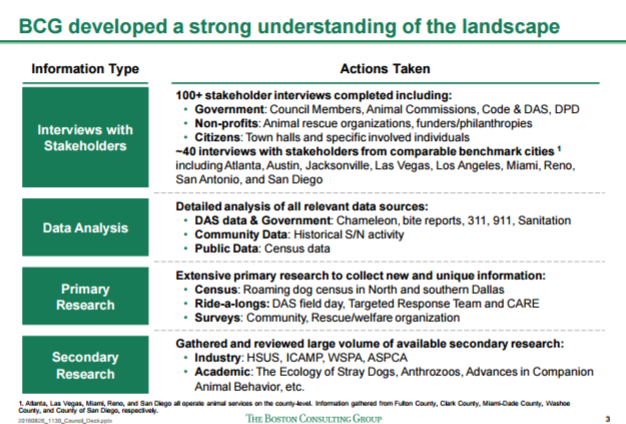 Simple framework. It's great to have a unifying theme, framework, analogy to describe the situation. Here, BCG shows how there are so many loose dogs in Dallas – using "buckets" as a simple analogy.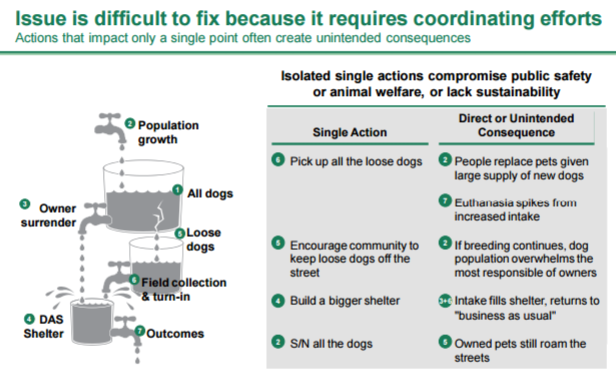 Executive findings. Always tell junior consultants to start with the summary. Executives have a limited amount of time, strong opinions, and want to know where the conversation is headed. Let them know in the first few pages what your recommendations are. Use the pyramid principle.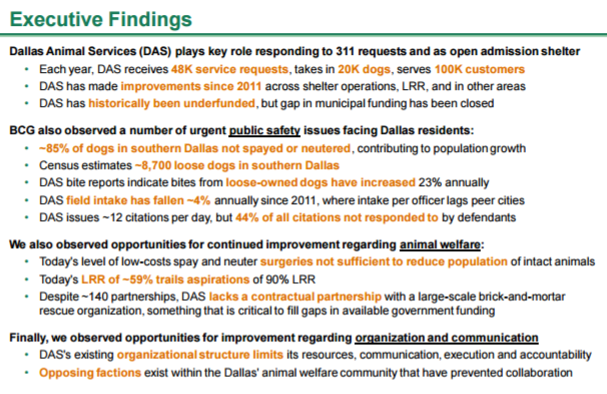 Do the primary research. Gotta give BCG some props here. If you look on the left-hand side of the slide, they actually did a "market sizing" of the number of stray dogs in South Dallas. Yes, they counted the number of stray dogs along a 235 mile stretch of highway. Gotta love primary research.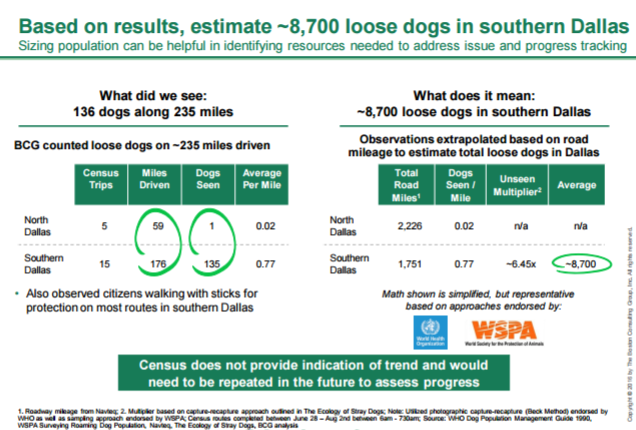 Benchmarking. We consultants love benchmarking – not because it tells you the answer, but since it tells you where you are relative to others. Here they show that Dallas is a bit understaffed and resourced vs. similar operations.  Of course, this is a fairly sympathetic story line for the DAS which hired them.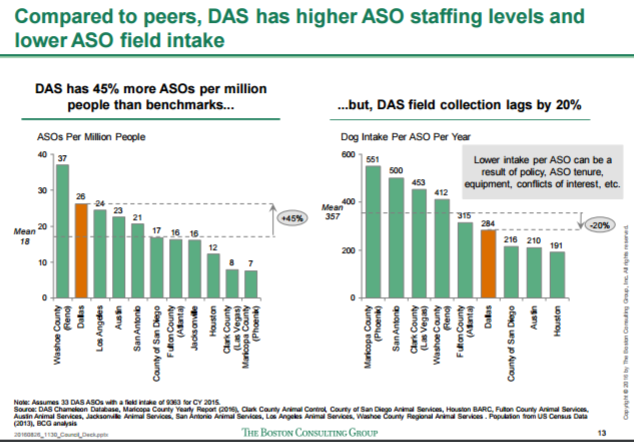 Using data. Good consulting charts tell a story all by themselves. Look at the chart on the left. It goes STRAIGHT UP, almost at a 45 degree angle. Lots of DAS-issued citations. Lots of stray dogs, I tell you.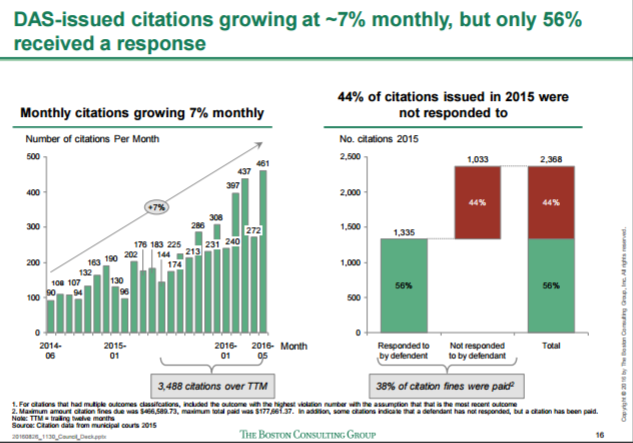 Organizational designs. The big 3 have a lots of organizational design work – because honestly – a lot of the dysfunction of organizations have to do with unclear responsibilities, lack of clear mission, inadequate headcount, and other organizational issues. BCG notes that yes – org design – also affects this dog problem.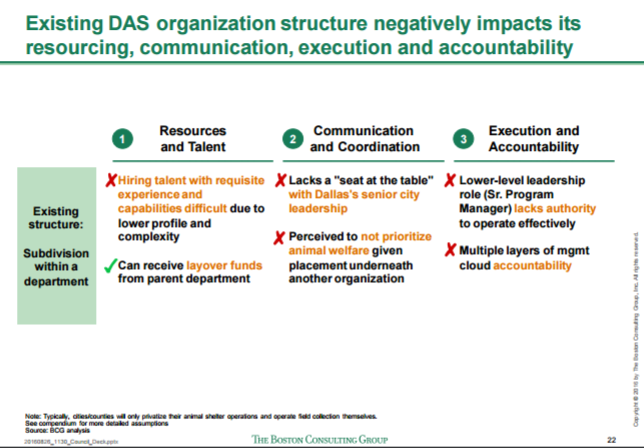 Industry comparisons. The big three do great work. Look here – BCG went through the trouble of contacting all these places to see how they were organized. Great job getting the data to help your client make decisions.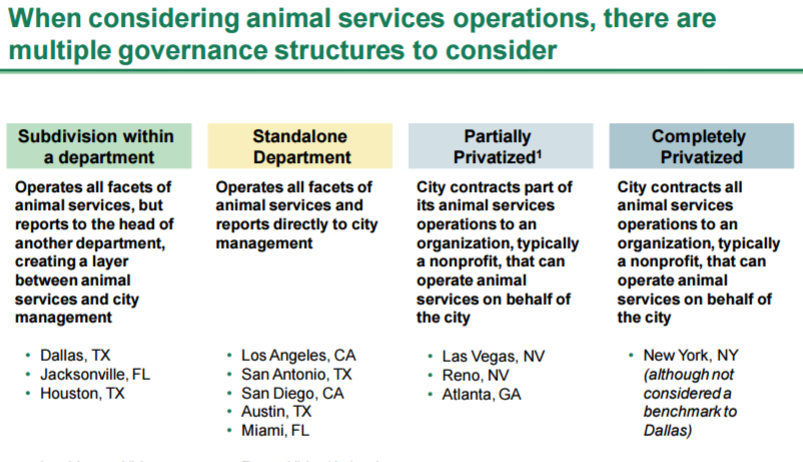 Multiple recommendations. This is a 55 page deck on loose dogs. There are 28 recommendations – because understandably – this is an issue with multiple root causes. So, it's important to bucket the issues by type.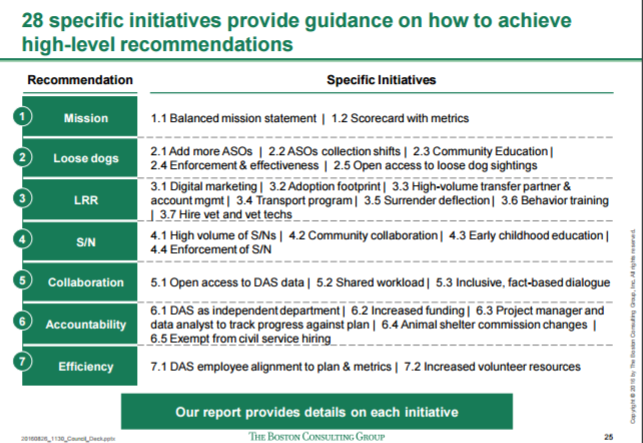 Prioritization. That said, no one can attack 28 recommendations at once. They need to be re-bucketed and prioritized. You will see quick-wins (immediate, low risk actions), and more long-term (difficult, but useful) initiatives which should be tackled in due time.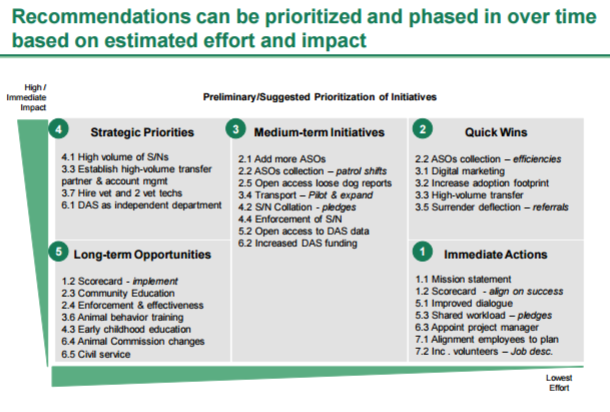 Potential results.  You have to show the potential results. In this case, with more spay/neutering, BCG estimates that the number of dog bites could be dramatically reduced over time. Seems reasonable. Nice to see numbers.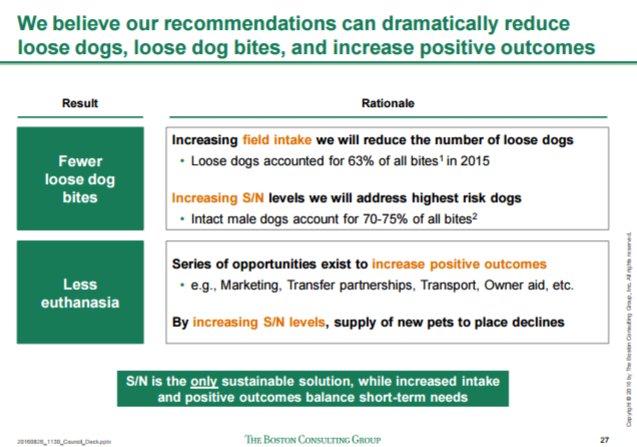 Make some projections.  I tell B-school students that it is okay to make forecasts and projections. Executives like it when you put your money where your mouth is and guesstimate what the impact will be. It is a good sanity check.  Here BCG estimates what the stray dog population will be after a standardized spay / neutering program.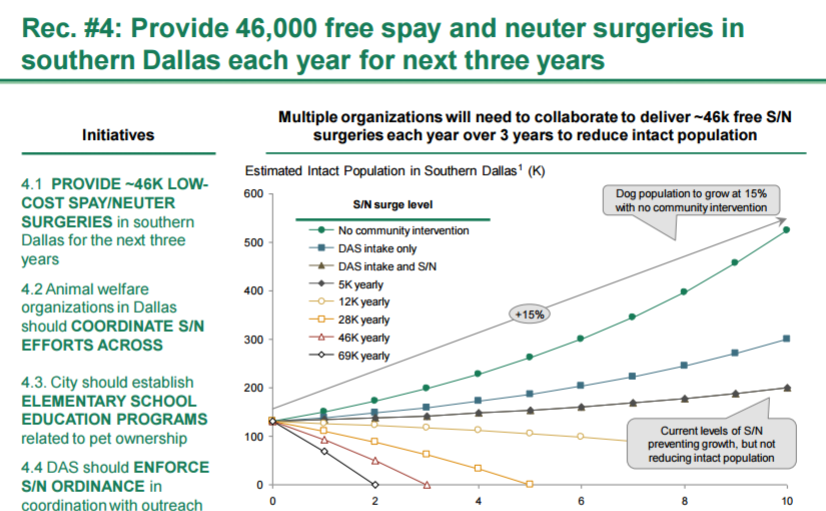 Some subjectivity is okay. See this scatterplot.  BCG compares initiatives be the cost per dog and the total number of dogs impacted. If you see the "source" it says "BCG analysis" which is another way of saying an estimate. That is okay – it is meant to show relativity between initiatives.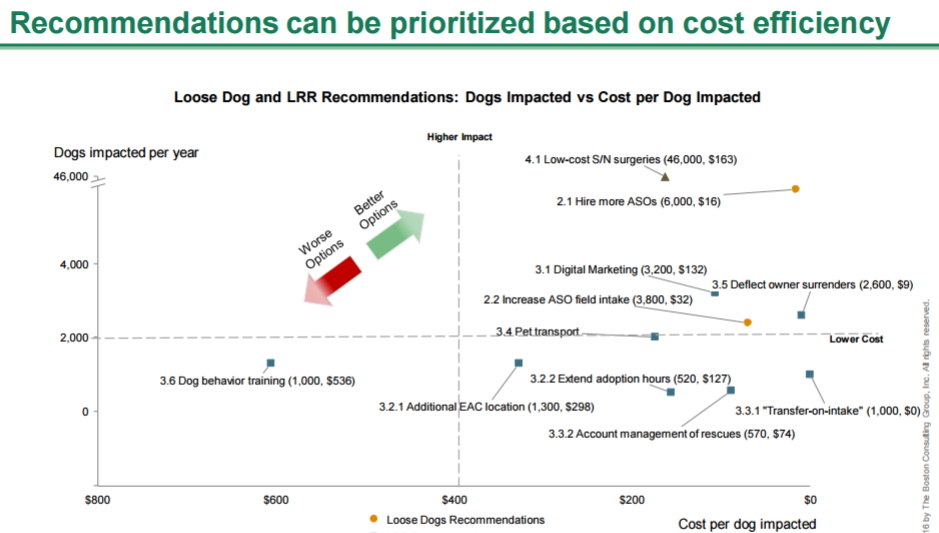 More $$ needed.  On this waterfall chart, you can see that more funds are needed for this non-profit.  It starts on the left with a budget of $10M, and that amount needed is on the right of $20M.  The steps in the middle show where the money needs to be invested.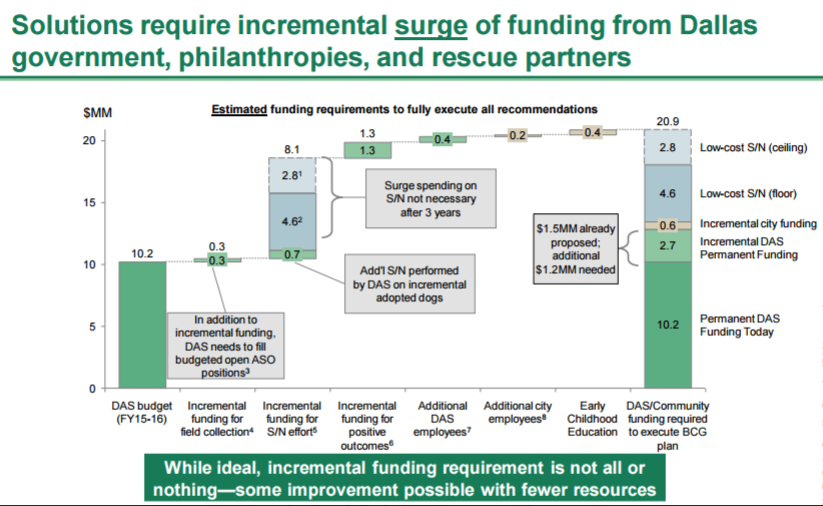 Implementation timeline. This is very typical in the back of a consulting deck – some sequencing of events to make it easy for the client to plan out the actions. Honestly, without a roadmap. Things don't get done.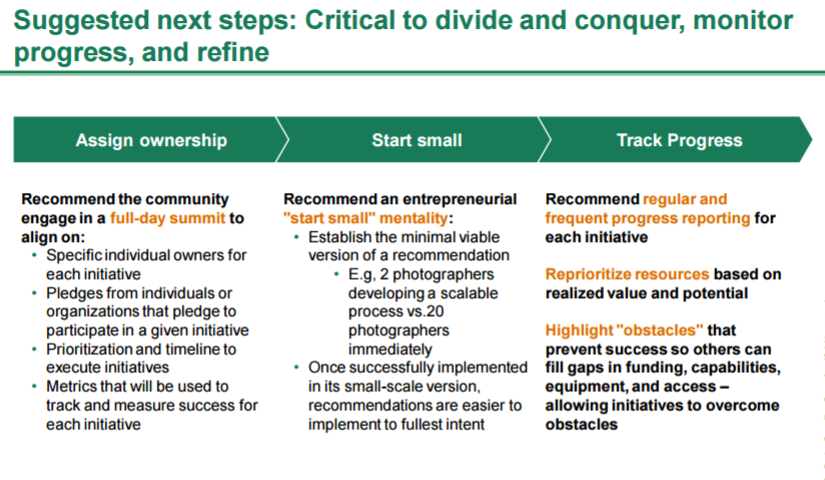 Have a great weekend. While this is an odd topic, and a bit of comic relief, our last pet did come from the Humane Society (read: pound), so I guess this recommendation does matter. After all, if the City of Dallas is euthanizing 8,000+ dogs – that's not a good thing. If this BCG deck helps, good for them.
Related posts: