The Financial Times wrote a short scathing article on the management consulting industry here. Some valid points, but clearly a quickly assembled article with a Warren Buffett quote and visual used as a wrapper. If you are going to argue that a $133 billion industry is a "curse", do a good job. Calling consulting a curse is 1) odd 2) sensationalized 3) faulty logic.
Some good points made. All true:
Consulting is booming. Global revenues of management consulting topped $133 Billion, up 7% YoY.  Bain and BCG had double-digit growth. E&Y gets 40%+ of their revenues coming from advisory.
Consultants are needed. After the financial crisis of 2008 and other downsizing, the author glibly calls it "management in the cloud."  Likewise, changes in technology, regulation, competition creates a need for thinkers and doers. Yes, consulting is not going away.
Dangers of benchmarking. I have written before on the perils of "best practices" and blindly following the competition. – Strategy is about being a better you. Sustainable competitive advantage, not regression to the mean. Benchmarking might be a good yardstick, but it is not a compass.
Odd logic in red:
Consultants become a habit. Interesting thought – kinda true.  Any professional services firm – lawyer, marketer, tax accountant, consultant – only survives on the quality of their work and referral business. If they do their job – you will want to use them again. Not a deep thought.
If consultants do THAT, what does management do? With executive turnover so high, 1-2 executives in the C-suite (CEO, COO, CFO, CMO, CIO, CSO etc) are either coming or going. Rare to find a stable management team nowadays. Which leads to the question – if you are hiring all these consultants, what exactly are you doing?
A Curse? It's pretty bold to call a $133 billion industry a curse after a 850 word article. If a consultant wrote this article she would at a bare minimum 1) divide up the $133 billion in spend by types of consulting 2) show the growth over time 3) identify the root causes of the growth of consulting 4) interviewed a few consultants and executive clients for their point of view.
Let's show a little rigor here.  The fact that consulting has grown so enormously from it's early roots as management engineering (think Taylorism) is both a fascinating topic and worth inquiry.  To that end, I am currently reading The Firm: McKinsey and its Secret Influence on Business (affiliate link), and Lords of Strategy: The Secret Intellectual History of the Corporate World (affiliate link).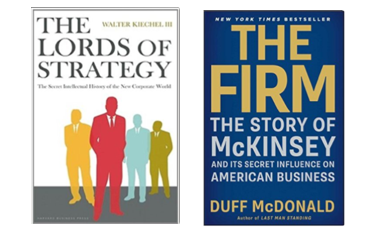 Correlation not Causation.  The strangest part off this article is the way they called consulting a curse. If my Indiana Jones and the Temple of Doom logic is correct, a curse causes problems. So calling consulting a curse means that it is causing these problems?  Hmmmm.  This is a big logical No-No.
Is consulting correlated with the following? Correlated, Yes.
Shifting industry landscapes driven by global competition
Shareholder impatience with long-term earnings
Revolving door of executives creating leadership instability
Creative destruction of traditional retail from new shopping patterns
Increasing levels of regulation in response to periodic crises
Increasingly similarity of business problems with the rise of outsourced 3rd party providers (think AWS, 3PL,call centers)
Harmonization of business education; Read McDonald's most recent book The Golden Passport: Harvard Business School, the Limits of Capitalism, and the Moral Failure of the MBA elite (affiliate link)
Is consulting the curse that caused them?  Causal, No. Seriously. . . .
The user-posted comments are just as interesting here.  
"Consultants are those who come down the hill after the battle is lost to shoot the wounded.  Source: I am a consultant"

"Warren Buffet may not be using consultants at BH, but his investment companies sure do. And I mean all of them"

"Consultants don't often rock the boat, as they would be out of business."

"Consultants come in all shapes and sizes, good, bad, and indifferent. The problem is, I think, governments and businesses are overusing them, contracting out core responsibilities and thorny issues."

"Rather offensive article suggesting that consultants are a type of vermin.  They are people . . A good consulting firm stands and falls on the quality of its people and the credibility of its ideas. Consulting is a very competitive market and firms don't survive if they cannot deliver."
Related posts: