Booz Allen Hamilton is a reputable consulting firm, well-known for it's deep relationship with the US government. As the news reminds us, it has not been a good week for BAH.
One of its employees, Edward Snowden, admitted to leaking national security documents to the press.  Regardless of how you feel about his libertarian views, the fact is that he (as a consultant) revealed his client's secrets. Not professional.  An embarrassment for BAH.
The New York Times ran a piece with some interesting tidbits about the close relationship between Booz Allen Hamilton and the US government here. Quotes in blue:
Booz Allen [Hamilton] earned $1.3 billion, 23 percent of the company's total revenue, from intelligence work during its most recent fiscal year

Obama administration's chief intelligence official, James R. Clapper Jr., is a former Booz Allen [Hamilton] executive. 

The company employs about 25,000 people, almost half of whom hold top secret security clearances.
It reported revenues of $5.76 billion for the fiscal year ended in March and was No. 436 on Fortune's list of the 500 largest public companies. The government provided 98 percent of that revenue, the company said.
Forbes ran a fascinating piece on how a large private equity firm invested in Booz Allen Hamilton and has fare very well. It is worth reading here. Direct quotes in blue:
The private equity firm has made $2 billion in realized and unrealized profits on the Booz Allen Hamilton deal so far. Its $910 million investment is now worth $3 billion.

Carlyle owns about two-thirds of Booz Allen [Hamilton], which earned $219 million in the year ending March 31, on revenues of $5.76 billion. In 2008, the year Carlyle bought the business, it made $18 million in profits on $3.6 billion in revenues.

Booz Allen [Hamilton] paid big dividends twice in 2009, resulting in Carlyle receiving payments of $104 million and $444 million. Special and regular dividend payments continued to flow to all of Booz Allen's shareholders after the company became publicly-traded, including a large special dividend last year that saw Carlyle get $621 million.
Booz Allen Hamilton needs to change it's website. As of June 11, 2013, this is what was on the front page. Without the benefit of taking a survey of the American public, I am pretty sure this is not what they want to see, or how they feel.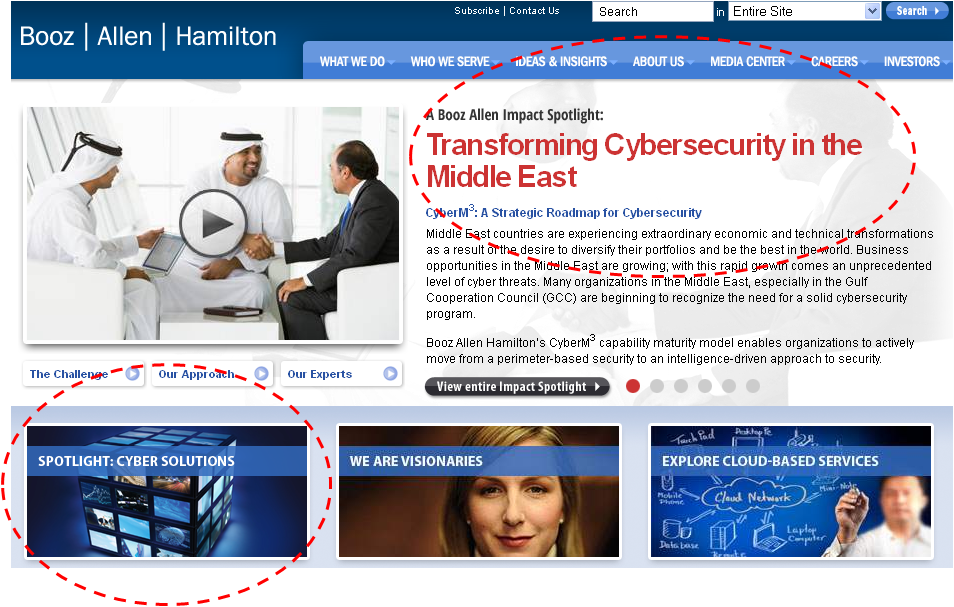 Booz Allen Hamilton and Booz & Co are different. Booz Allen Hamilton (BAH) is a publicly traded company, 2/3 owned by the private equity firm described above. That is different from Booz & Co, which was carved out a the time of the IPO, and is a partnership. As of the August 2008 IPO, they are different companies. Apparently, BAH has such a large footprint on Washington DC, Bloomberg wrote How Booz Allen Swallowed Washington.
Related posts: