The Economist has a blog called Graphic Detail, which excels at showing complex ideas simply. Engaging, thoughtful, and often surprising.  Some recent graphs:
1) High blood pressure globally, not just affluent countries here         
A recent study in Lancet largely dispels the myth that high blood pressure is a rich country's problem; it's prevalent everywhere, especially eastern Europe & Sub-Saharan Africa
Only in 36 countries do women outnumber men – all of those countries are in Africa
Trends show that nutrition and a cleaner environment may be bigger factors than we first thought – it's not just obesity and lack of exercise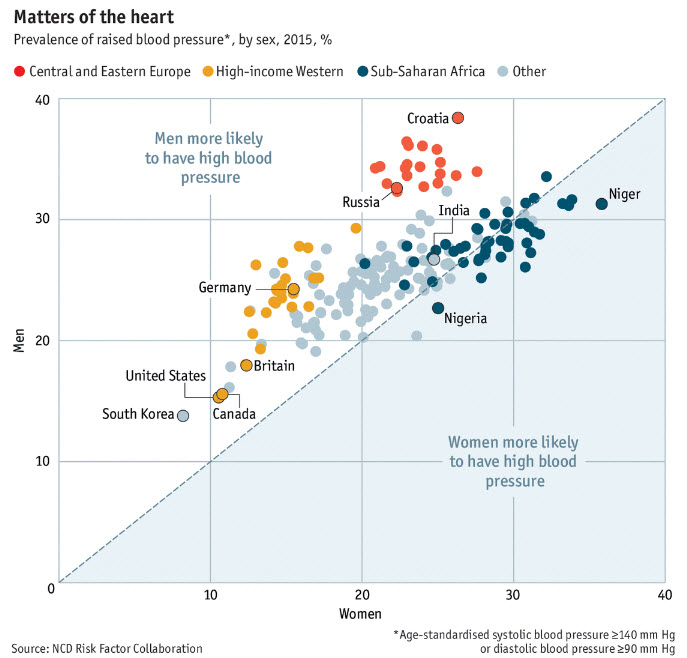 2) US "Stand your ground" laws correlated to more homicides here
As background, there are 20 US states which have passed laws which allow citizens wide latitude to assertively use guns (including deadly force) for protection. That is a fancy way to say Americans can shoot you when they feel endangered
Journal of the American Medical Association research showed that after Florida passed the law, homicides sustained a 24% jump vs. flat for the rest of the country
The rate of "justified" homicides increased 3x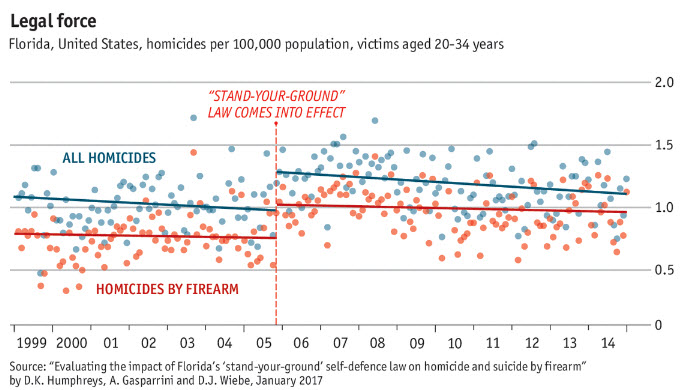 3) What the world worries about here.
The majority of the world is unhappy with their country's progress
The Chinese are the most optimistic and the French the most pessimistic
Interestingly, the biggest concern varies by country (US = terrorism?)
This angst obviously feeds into the "strong-man" populism in the US, France, Britan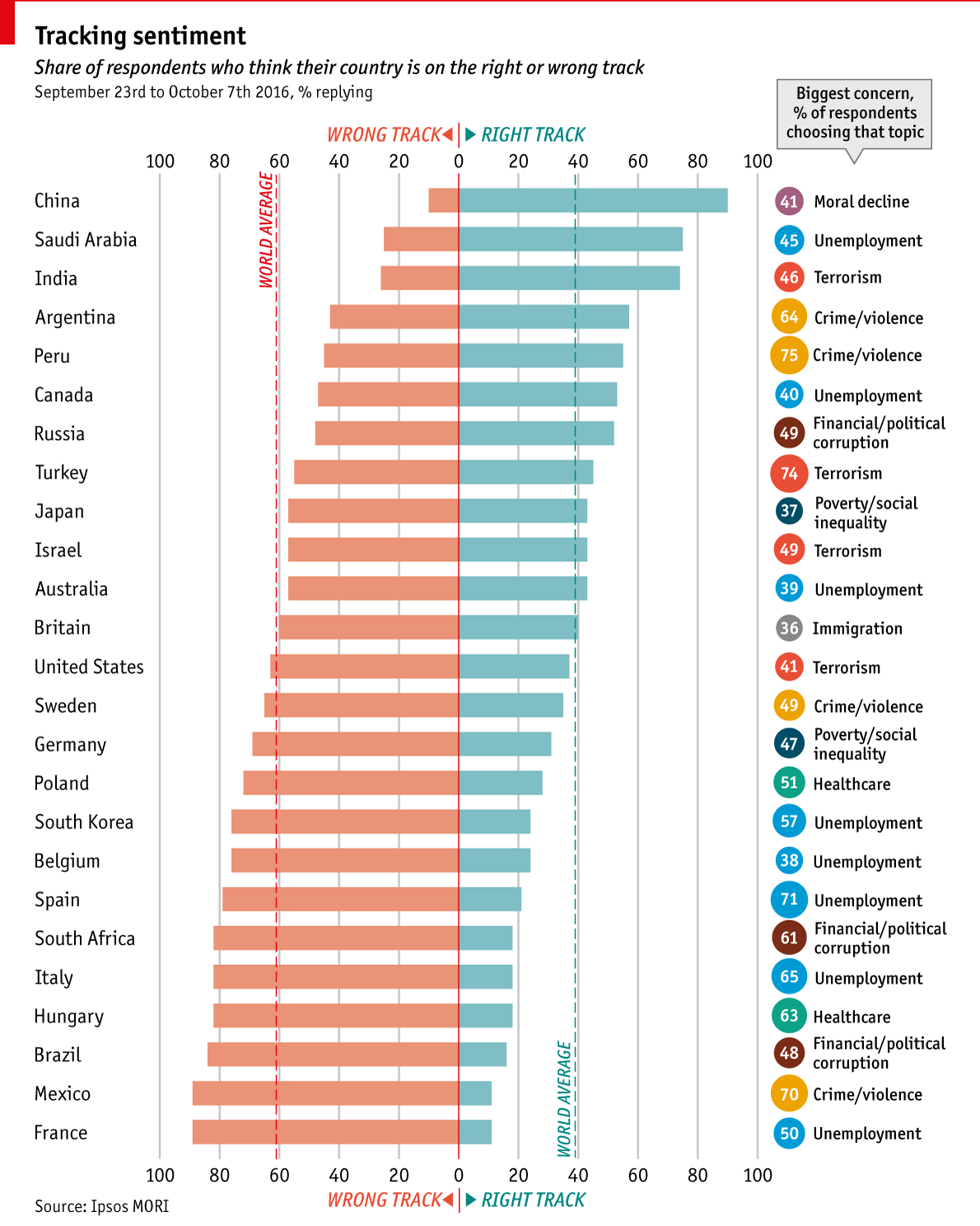 4) Spreadsheet errors in genomics research papers here
Genome Biology, an scholarly journal, found that between 2005 and 2015, one-fifth (yes, let me repeat . . 1/5) of articles on genomics included excel errors in the data
This is particularly alarming since the # of errors is increasing 15% annually
Question: how prevalent are these problems in other data sets?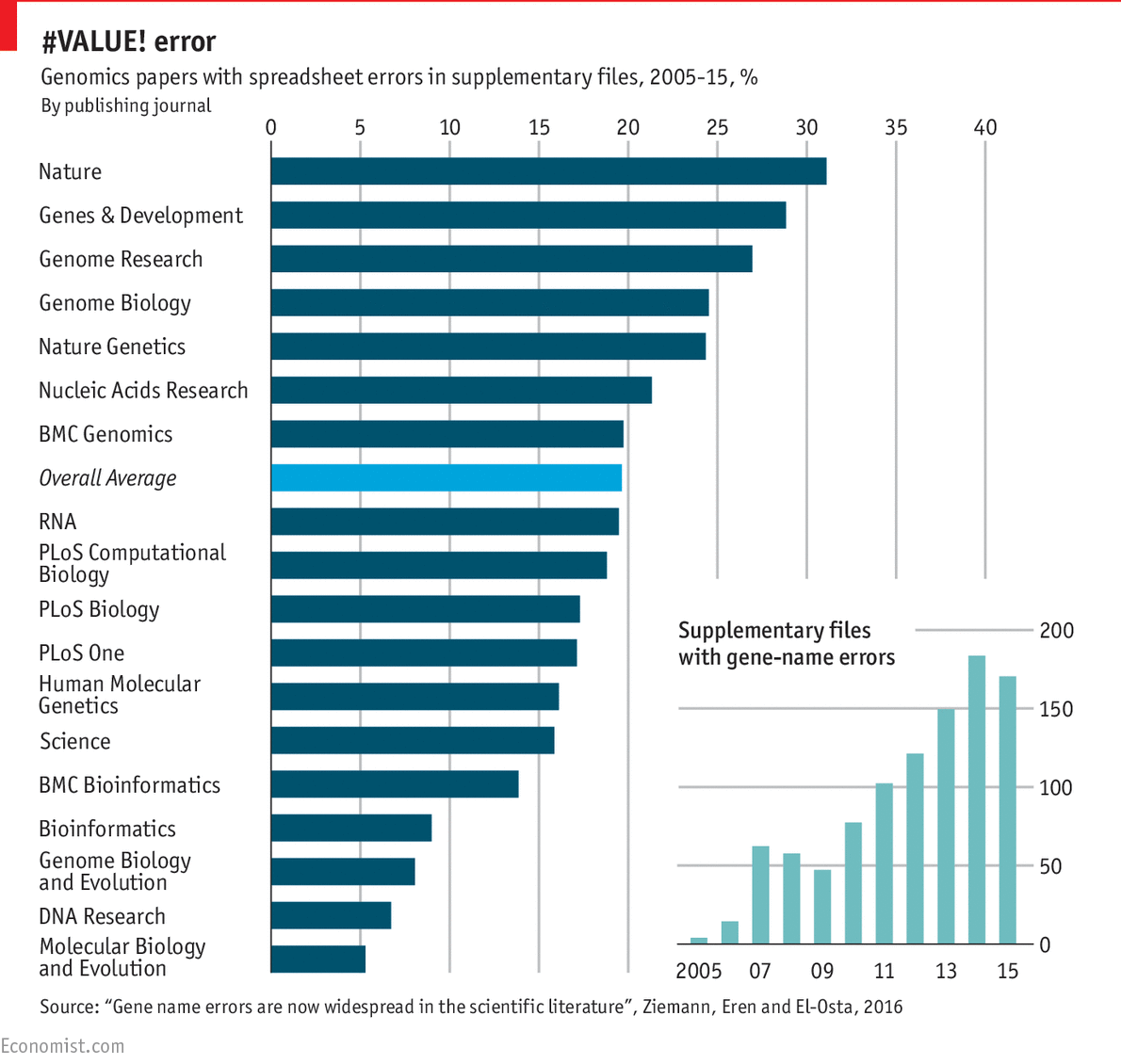 5) Piracy is less of a problem here
Pirate attacks are down globally
Indonesia is the hot spot; Nigeria's coast is problematic; Somalia has settled down
Shipping companies are hiring private security guards to protect their ships and investments. leading to a rise in floating armories (fascinating story here)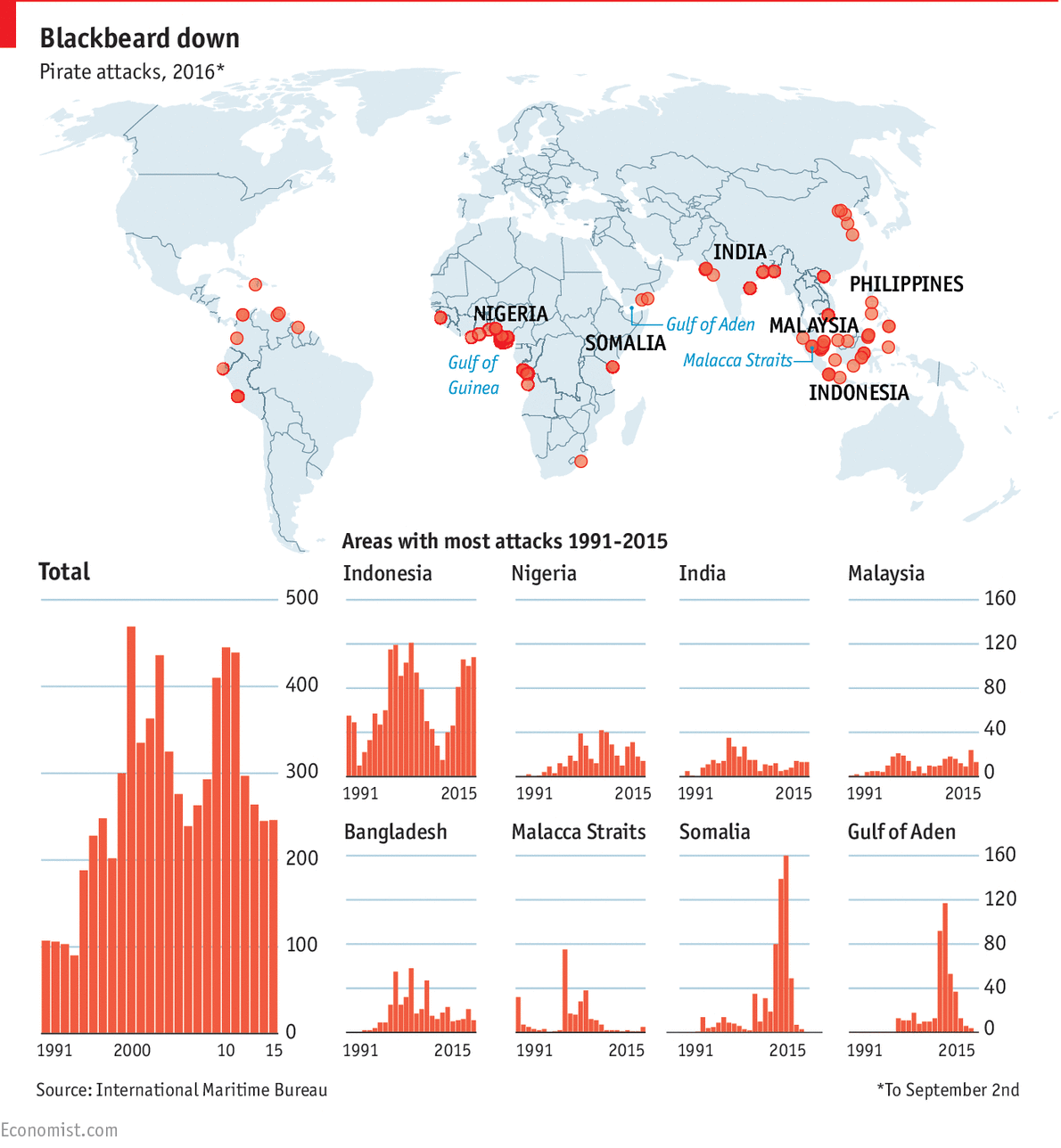 6) Increasing number of "Temps" in the US here
In the US, 2.9M people (3% of workforce) are temporary workers
Temp positions generated 10% of all new net jobs since the 2008 recession
No surprise, the quality of these jobs is worse than full-time work; 20-25% less pay
See the influence a large number of temps (% of total) may have on overall wages
Temp agencies often do not offer health benefits, which inevitable fall the the public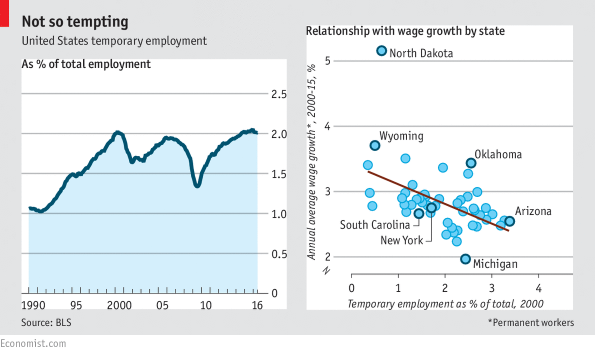 7) Measuring global happiness here
BCG's report called "Sustainable Economic Development Assessment" (SEDA) looks for an balanced scorecard way to measure well-being across 163 countries
Looks like economics, investment, and sustainability; 50,000 data points
Norway has been top of the list every year since beginning of SEDA in 2012
Big takeaway was the correlation between happiness and the % of people over 15 years old with access to bank accounts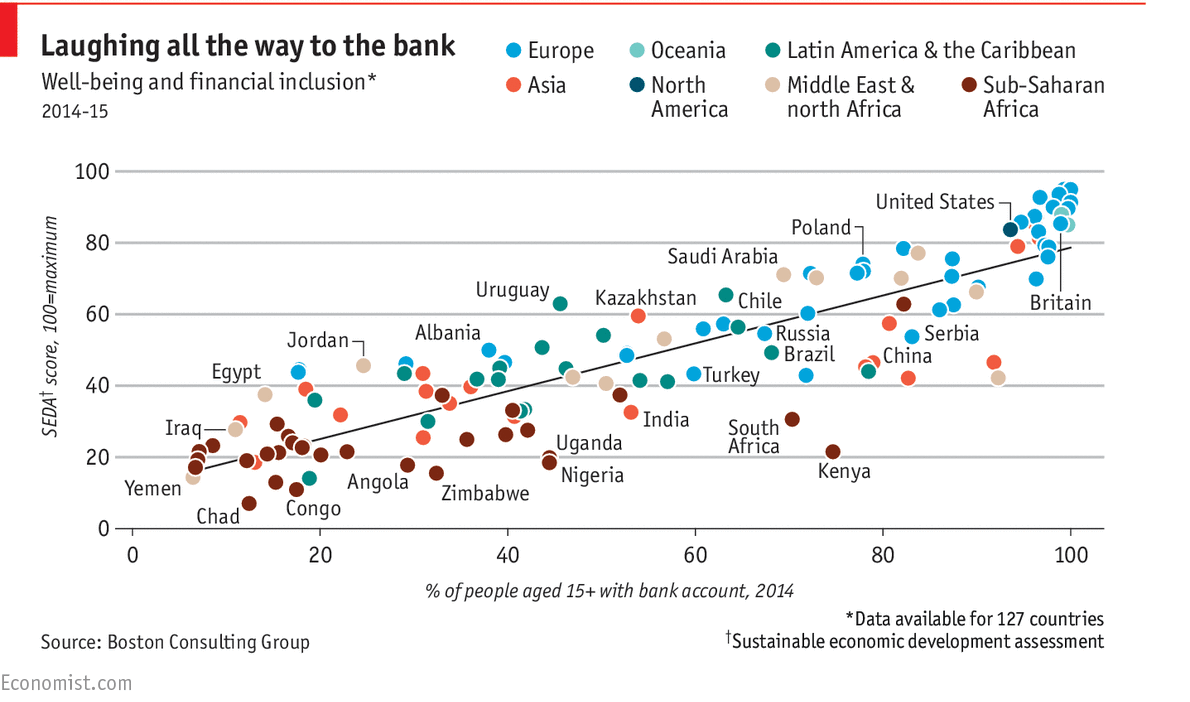 8) Mismanagement of opioids here
Opioids – morphine etc – are incredibly effective at easing pain
They are cheap: $2-5 is enough to ease the discomfort of a cancer patient for a month
In the US, millions are addicted; it cause 20,000 overdoses in 2014
US, Canada, Australia, and Western Europe is 17% of world's population, but consume 92% of all morphine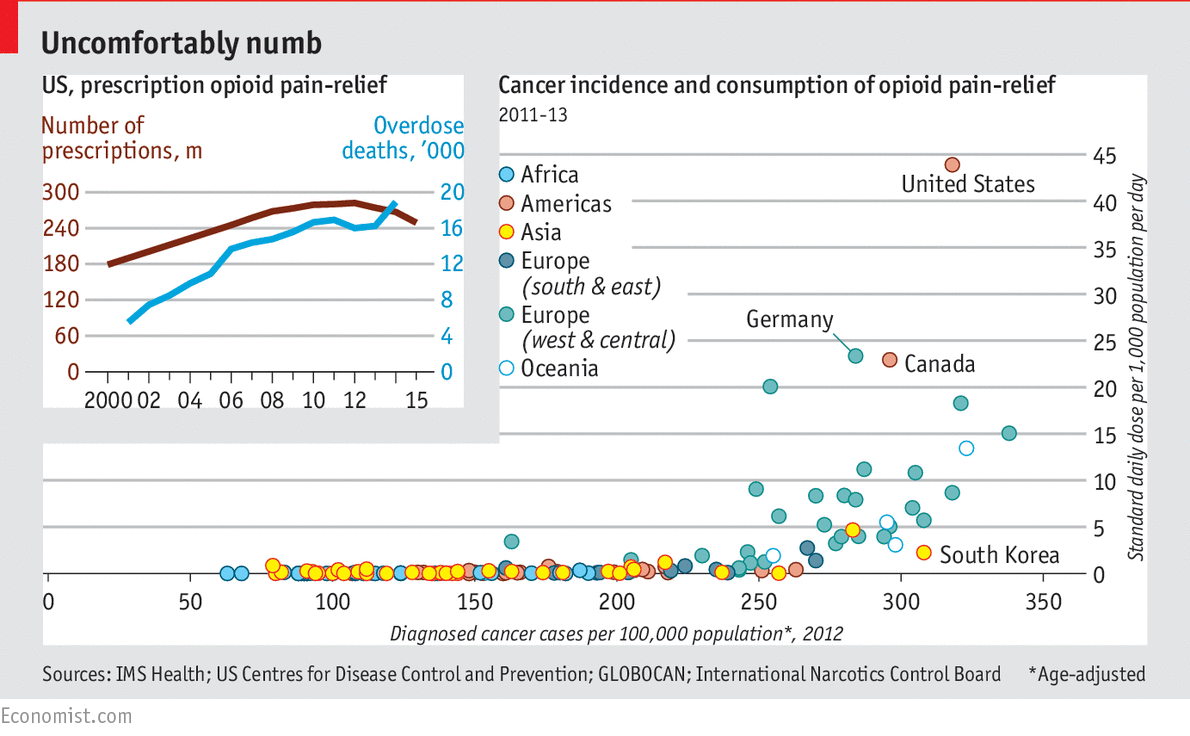 Related posts: