Teaching management consulting this semester to a select group of 40 students. I imagine 1/2 of them will have consulting internship or full-time offers already. This is an elective, and they are elite. That said, I wanted to describe management consulting succinctly in the syllabus. Two weeks ago I described it by sharing 30+ links to other posts here (version 1). This is how I am explaining it to my students this semester in 530 words in blue below (version 2).
What is your feedback on this syllabus intro?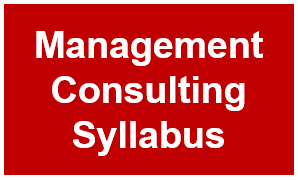 Management Consulting is a very broad topic because it describes a burgeoning professional services industry, a much-coveted career path, and a specific way of solving business problems.  Since its fabled origins with Arthur D Little (1886) and McKinsey & Company (1926), the industry has ballooned over the last 50 years to an estimated $100+ billion of revenues. It has also expanded in scope to include many disparate areas not traditionally associated with management: information technology, design, marketing, etc. . .  
For all its detractors, most everyone will agree that consulting firms have been enormously influential in corporate decisions making in three ways: 1) formal consulting engagements 2) well-placed alumni at the heads of corporations, governments, and institutions 3) popularized thought-leadership on business and organizational topics. In one 2011 NY Times article noted "The current chief executives of Boeing, General Electric, Hewlett-Packard, Morgan Stanley and PepsiCo are all alumni of either Bain, Boston Consulting Group or the most prestigious consulting firm of all, McKinsey & Company."
In many ways, the generic term "consulting" has become a type of "short-hand" description for the type of knowledge work that Peter Drucker predicted in the 1960s: teams of smart and motivated individuals who mobilize temporarily to tackle difficult, ambiguous, cross-functional, business problems. In many ways, consulting firms – on their best days – foreshadow a future for all workplaces that are deeply meritocratic, highly flexible, and great places for intellectually curious people to work.
Consulting is a career launching pad for four reasons: 1) The vast majority of people joining a large consulting organization will leave during the first third of their career.  The promotion criteria is stern, and there is a culture of mobility; many firms work diligently to place their "alumni" in prestigious, and high-paying corporate roles, which in turn, serve as future client contacts.  2) As a result, consultants are a diaspora. You will develop a large network of smart, motivated, and ambitious ex-consultant colleagues 3) Many of the analytic frameworks, consulting skills, and professional habits apply to most any professional services work environment. Some call it "the MBA after the MBA." 4) Finally, you will learn how to work well with consultants. Throughout your career, you will likely work for bosses, work-along colleagues, hire vendors, and manage direct reports who came from consulting firms.  
How do consultants – however smart and informed –provide marginal value to clients who are 30+ year industry veterans?  How do top-tier consulting firms sell multi-million dollar engagements without advertising?  What is the difference between management consulting, project management, subject-matter expertise, and staff augmentation? To what extent will the industry be disrupted over the next 20 years? What are the core analytic frameworks, skills, and professional habits you need to know at each stage of consulting development? How do you create a company culture where apprenticeship is the model way of learning?
Look forward to learning this together.
Okay team, what did I miss. Does this cover the bases? All feedback welcome.
Related posts: